Constructing a Test/Retest System for Hitters
With new baseball technology readily available and widely used, it is becoming more important to be proficient in using the new information available to players and coaches. This information comes from batted-ball feedback (HitTrax/Rapsodo), bat-motion feedback (Blast, Diamond Kinetics), and movement feedback in biomechanics or force plate data (K-Vest, Boditrak). As this new, objective feedback becomes widespread, the advantage will be in developing a system to present the most relevant information in order to improve a hitter's overall game. This means collecting data on players in order to find what is "good" and "bad" and then develop a plan to target the hitter's deficiencies and further develop his strengths.
The first step in this process is to develop a test/retest system to assess, develop, and retest in order to find out those who are improving and how they are improving. Once this system is built, both athletes and coaches will learn and develop more efficiently, as objective feedback in multiple aspects of the game will assist the athlete in pairing "feels" to results and the coach in finding what methods or drills work for each athlete.
This article details the test/retest system implemented at Driveline and the importance of tracking development and communication between coach and player. We also cover how to implement a similar system across an organization, along with executing a retest system on a budget.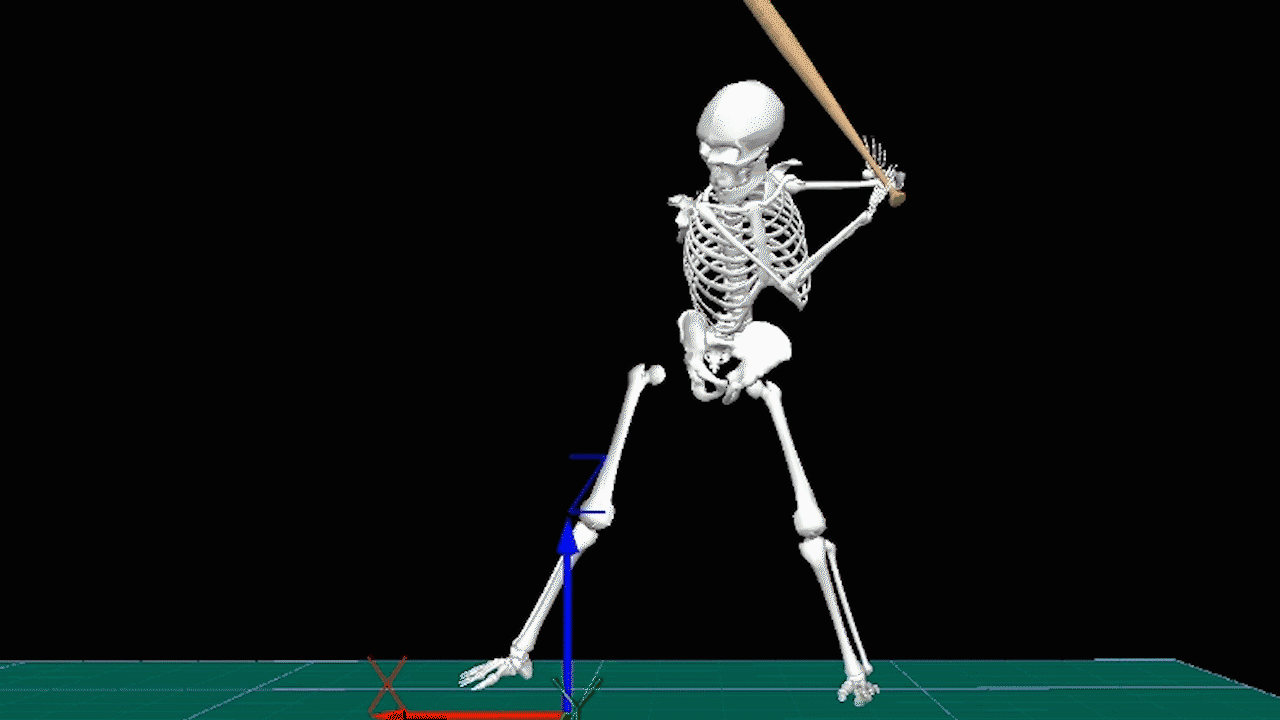 Foundations of Hitting
30 modules teaching you everything we know about hitting and hitting mechanics.
Driveline Hitting "Data Collection"
Many familiar to baseball social media have realized the assessment process has received a great deal of attention—and with good reason. Without this, you cannot expect to believe that a coach can form an athlete's development plan without data and objective feedback. An assessment process is clearly important because it provides objective data of athlete's training goals, allowing the athlete to understand their deficiencies, set a development plan, and achieve a desired result.
This article focuses on sustaining the development plan formulated through the initial assessment through a retest system performed bi-weekly. Every other Friday, we scrap our regular hitting day plans and perform a "Data Collection Day," in which we use all the feedback tools Driveline has. This means lining up HitTrax, Rapsodo (for batted ball spin), Blast Motion, K-Vest, and high-speed video with Edgertronic cameras.
The goal is to give athletes feedback on their swings by pairing body and bat motion to a batted-ball outcome and have it all wrapped together with Edgertronic footage. Each hitter will take 6-8 swings in a controlled environment (flips) with a K-Vest strapped to his body, a Blast Motion sensor on the knob of his bat, and HitTrax and Rapsodo recording each batted-ball outcome. This data is collected by the hitting training and R&D staff and then analyzed further by our R&D team. When it comes to research, these days serve many functions, but in terms of coaching they provide feedback in the form of data paired to video in order to more precisely track our hitters' progress.
Once the data is collected, the hitters receive feedback in the form of exit velocity, bat speed and other bat-motion metrics, a K-Vest comprehensive report, and video of each swing. This information may or may not be useful on its own, but that is where our hitting training staff comes in. They make sense of the data, show how the hitter is making progress, and make adjustments to his development program.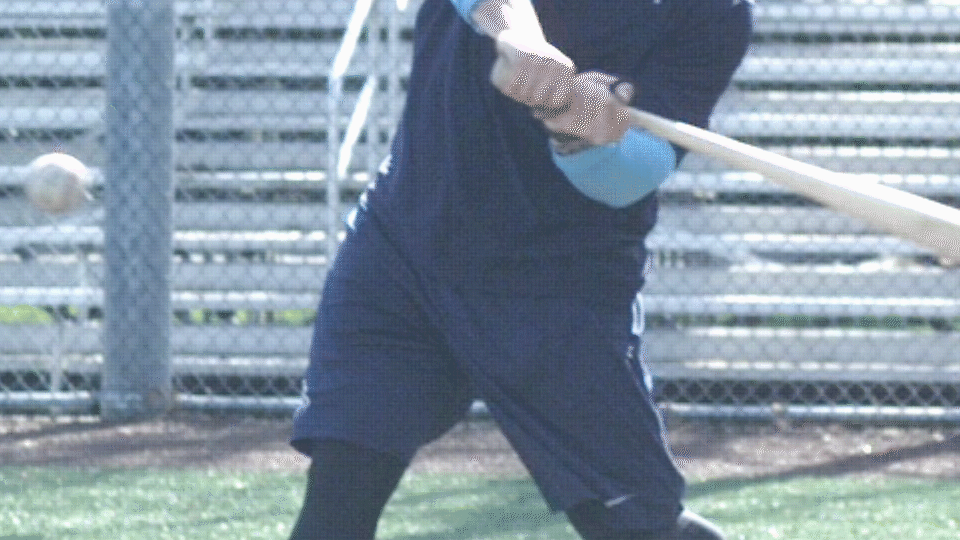 Become the Hitter You Want To Be
"Swing Design" and Its Role in Retesting
Once the original assessment is completed, the hitter has a personalized development plan. This is a huge step towards taking ownership of personal development, but the program will not function to its potential if the hitter is not continually assessed and held accountable throughout the training program. This is where our swing-design sessions come into play.
During our swing-design sessions—a 90-minute time slot where hitters get one-on-one time with me and other hitting trainers—the data collected during these retest days plays a crucial role. Based on the data, we formulate a daily hitting plan for coaching hitters on how to use batted-ball feedback, developing an intention and task to accomplish during group work, and further integrating strength and physical therapy. Also, our ability to assess a hitter's movement quality and patterns through an OnBaseU screen allows us to monitor how he is moving and make positive adjustments according to what the hitter is physically capable of.
Let's look a quick example of how this process takes place.
Through the original assessment it was deemed that this particular hitter struggles to pull the ball and do damage in the air—despite a big, strong frame. As a bat-first corner infielder, it is imperative this deficiency is cleaned up if the hitter wants to maximize his time on the field.
From simply watching him hit initially, it was simple to hypothesize that he struggled with doing damage in the air because of the bat-path issues which possibly stemmed from mobility and posture deficiencies. The Blast Motion data confirmed the bat path with a steep attack angle and low bat speed, despite the ability to accelerate and create power quickly.
Through our OnBaseU screen and K-Vest data, it was clear that mobility issues and posture had to be addressed. OnBaseU revealed a lack of rotational ability in the hips and thoracic spine while the hitter was able to bend and extend with the torso and hips. The performance graphs on K-Vest showed a lack of torso bend (only seven degrees of torso forward bend at heel strike), likely causing a steep bat path and inability to get the ball in the air for any production.
This led to the conclusion to initially clean up this hitter's stance by adding a little more bend at the waist and being cued to maintain this posture throughout the swing. It is difficult to lift the ball when setting up in a straight up-and-down fashion, so we chose to attack the lowest hanging fruit by strengthening the movement patterns that the hitter was already capable of. We then adjusted posture in order to increase the athlete's ability to pursue a deeper, more positive path to the ball.
From this point forward, the hitter is aware of his plan to make slight mechanical adjustments. He was given a specific time period to work with a coach and focus internally in order to acquire a new pattern. After a completed session, the hitter has a feel for his new pattern and an awareness of what his daily workouts will consist of going forward. This means we developed an intent and external focus designed to help the hitter accomplish the new goals over time. (For this particular hitter, his intent was centering balls over 90 mph and over a 16-degree launch angle, and his new goal was to do more damage in the air.)
At this point, it is crucial to continue to collect data and track the hitter's progress. While participating in data collection days, in-gym hitters are asked to sign up for swing-design sessions weekly or bi-weekly in order to track and show progress and maintain accountability to the plan and adjust it, if necessary.
The adjustments and plan developed for this particular hitter represent a great start and could possibly accelerate his learning curve and development as a hitter by-itself. However, a plan means next to nothing if it is not constantly executed, tracked, and adjusted. Making changes one day and leaving them alone is one thing, but it's another to find out if the adjustments or plan is working, along with keeping the hitter accountable. So, it is imperative the hitter receives feedback constantly and has quality coaching along the way.
Implementing a Retest System in Your Organization
A retest system is vital to a development program, but there are many questions around the new tech available and how to allocate coaching manpower in order collect data and effectively track athletes' progress. An organization (school, travel team, facility, professional team) must decide what data is important to them, along with implementing the data-collection technology necessary to test and retest their hitters.
The new tech in baseball is well documented but requires serious financial investment and a coaching staff proficient in its use. If you are an organization with the capabilities to implement batted-ball, bat-motion, biomechanic, and high-speed video feedback, there is no reason that these tools should not be used to their fullest extent. This means not only purchasing the feedback and data-collection tools but also employing coaches that have proven effective at using them or educating other coaches.
To summarize, the Test/Retest system for hitters at Driveline contains four key aspects:
Collecting meaningful data (Assessment)

Analyzing that data and providing clear goals to the player (Assessment Meeting)

Retesting (Data Collection Days)

Coaching and communication (Swing-Design Sessions)
These four pillars cover all bases in terms of development. It is imperative that a team or organization collects baseline data, assesses that data, communicates development goals to athletes, and retests the athletes' capabilities along the path to their development goals.
The baseline of implementing this type of system throughout an organization is the synchronization of the coaching staff and the players. This means an effective communication system must be established in order to relay the information to the hitter. If the information is not relayed to the hitter, he cannot track his own progress and can lose sight of the initial goals. Along with being held accountable, the player's development should accelerate due to the clear, stated goals that need to be achieved and the process of achieving them.
Developing this communication pipeline is up to each team or organization, but a good start is setting a schedule for data collection and creating time slots where coaches can coach and communicate development plans with players in one on one or small group settings. This means that once data is collected, coaches should be allocated time slots with each player, or groups of players, to begin practicing and achieving specific development goals based on what the data says after initial assessment and periodic retesting.
Many coaches have been putting players into practice groups by certain deficiencies. For example, if a group of hitters display poor disassociation skills and another group displays poor bat speed, a coach can separate these players and coach them as individuals, since the drills and programming are likely to be the same.
Each organization will have different structure and technology available, but the main factors in developing a retest system is creating a schedule for data collection and establishing a communication pipeline through individual practice slots with coach and player.
Retest System on a Budget
For a coach with few resources available that many professional teams or big-time college teams have, the question of assessing and tracking progress becomes much more difficult. While understanding of the importance of collecting meaningful data and communicating it constantly to the player is necessary, a system must be developed that employs the resources currently available.
Assuming a coach has access to Excel or Google Sheets, a radar gun, batting cage, launch-angle strings, and a blast motion sensor, many meaningful data points can be tracked and communicated to players over time. Since bat speed and exit velocity have extremely strong correlations to each other and hitting performance, it is a good idea to start with those two metrics (Radar gun for EV and Blast for bat speed). The launch-angle strings enable a coach to track launch angle with exit velocity and bat speed, and this can be used to track "barrels," or balls hit over a certain exit velocity and launch-angle threshold. A good place to start for many college or high school coaches is balls hit over 90 mph and between 15-30 degrees. A coach can tighten or expand these parameters as he sees fit.
Maintaining the principles of testing and retesting hitters, there are many possible scenarios available to execute a retest system. This is up to the individual coach and players, but when testing, retesting, and coaching on a budget, the best and cheapest place to start is with exit velocity, bat speed, and launch angle. Assessing these metrics will enable you to customize a quality coaching plan for each player and track it over time.
Conclusion
Retesting hitters and tracking progress is vital and serves multiple purposes for both players and coaches. The foundation of an effective retest system is the player and coach working together to share feedback and execute a development plan customized to accelerate the development of the player. There are many options when it comes to collecting and tracking data that are meaningful, but the importance of creating a communication and coaching pipeline that enables both player and coach to track progress over time cannot be overstated.
Train at Driveline
Interested in training with us? Both in-gym and remote options are available!
Athlete Questionnaire: Fill out with this link
Phone: 425-523-4030
This article was written by Hitting Trainer Max Dutto
If you enjoyed this article and a DrivelinePlus member, you will likely enjoy some of our DrivelinePLUS videos on:
In-Depth Hitting Assessment Part 1: Batted Ball Profile
In-Depth Hitting Assessment Part 2: Blast Motion Metrics
In-Depth Hitting Assessment Part 3: K-Vest Biomechanics
In-Depth Hitting Assessment Part 4: Integrating Strength and Overload/Underload Components