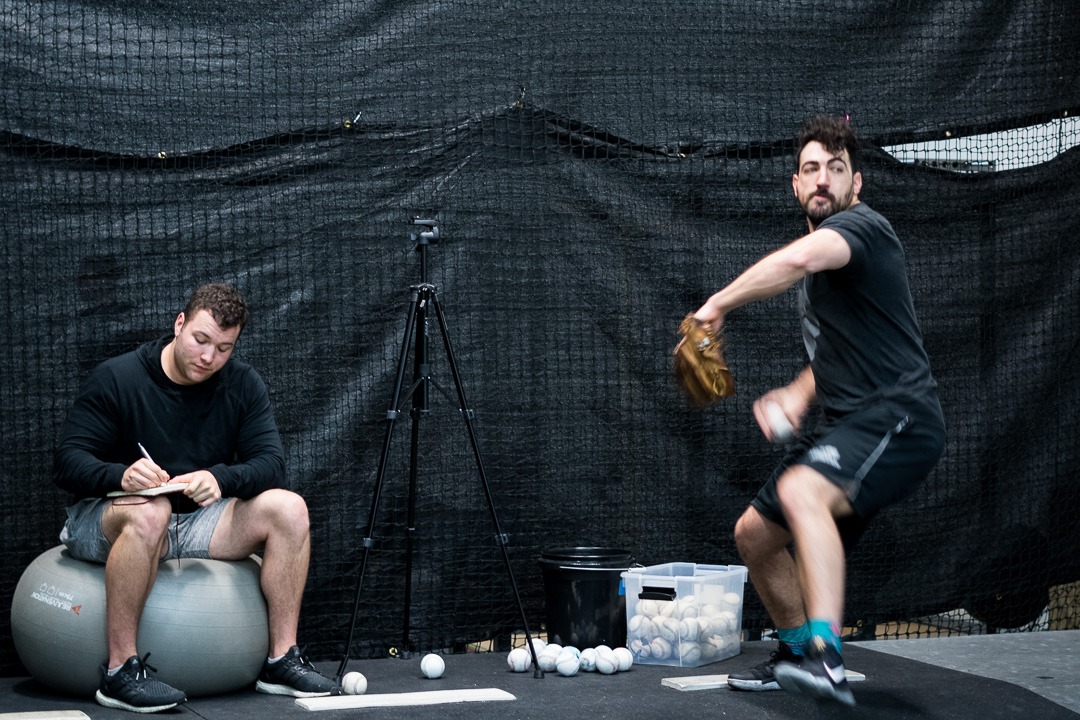 Driveline Careers
At Driveline, we are committed to getting our athletes the best results possible. It takes a team of dedicated and open-minded staff to ensure that we do.
What Interns Have Said About Working at Driveline Baseball
"Working at Driveline was an incredible opportunity and period of self development for me. Every day consisted of thought provoking, detailed, and collaborative work with people who had a passion for understanding and innovating. It's an environment where intelligently applied hard work leads to huge results."
Jesse Clingman
R&D Intern: Biomechanics
"Being an R&D intern at Driveline was a phenomenal experience. I was able to do projects about the things that most interested me (spin rate) while also working on projects assigned to me (arm stress). It was a lot of fun and I learned so much."
Erin Bristow
Pitching and R&D Intern
Where Have Our Employees and Interns Gone on to Succeed?
Professional baseball loves our employees and interns. Get your career started at Driveline Baseball and your opportunity inside Major League Baseball will come sooner rather than later. We're finishing school for the progressive baseball coach, analyst, and trainer. No other baseball training organization can claim this level of success with their internship program. Here's the list of people who have moved on from Driveline Baseball since 2017.
Andrew Cresci: Houston Astros, MiLB Hitting Coach
Anthony Brady: Philadelphia Phillies, Biomechanist
Ben Jones: Toronto Blue Jays, Biomechanist
Brady Conlan: Pittsburgh Pirates, MiLB Hitting Coach
Bryan Leslie: Milwaukee Brewers, Assistant Pitching Coordinator
Cam Castro: Milwaukee Brewers, Vice President of Player Development
Casey Jacobson: Chicago Cubs, Senior Pitching Coordinator
Christian Hook: Detroit Tigers
Cody Aden: Milwaukee Brewers, MiLB Pitching Advisor
Collin Hetzler: New York Mets, MiLB Hitting Coach
Connor Rooney: Chicago Cubs, Rehab Coach
Connor Нinchliffe: Los Angeles Angels, Pitching Analyst
Cory Popham: Toronto Blue Jays, Pitching Development Coordinator
Dan Aucoin: Philadelphia Phillies, Assistant Director of Foundational Research
Daniel Moskos: Chicago Cubs, Assistant Pitching Coach
David Besky: Boston Red Sox, Coordinator of Player Development
Demetre Kokoris: Texas Rangers, MiLB Pitching Coach
Devin Rose: Major League Coaching Assistant — Pitching (Boston Red Sox)
Dillon Leveille: Assistant Coach at New Mexico State
Drew Jarmuz: Tampa Bay Rays, Sports Dietician
Jack Bredeson: New York Mets, Coordinator of Pitching Analysis and Evaluations
Jack McGeary: San Francisco Giants, Software Engineer
Jake Witt: Seattle Mariners, MiLB Pitching Coach
James Barber: Minnesota Twins, Motion Data Analyst
James Buffi: Reboot Motion, CEO
Joel McKeithan: Cincinnati Reds, MLB Hitting Coach
John Soteropulos: Boston Red Sox, Roving Complex Hitting Coach
Kyle Houts: Assistant Coach at the University of Maryland Eastern Shore
Kyle Lindley: Biomechanics Analyst, Philadelphia Phillies
Matt Daniels: Minnesota Twins, Pitching Development & Acquisitions Specialist
Micah Daley-Harris: Arizona Diamondbacks, Research Analyst
Micah Hamilton: Duke University, Video Assistant
Michael Schwartze: San Francisco Giants, Director of Baseball Analytics
Rachel Balkovec: New York Yankees, MiLB Manager
Ryan Faer: Cleveland Guardians, Sports Science Analyst
Sam Bornstein: Philadelphia Phillies, Quantitative Analyst
Sam Briend: New York Yankees, Senior Director of Pitching
Sammy Lizaragga: Quality Control (Vanderbilt Baseball)
Spencer Medick: New York Yankees, Player Development
Sumair Shah: Minnesota Twins, Player Development Analyst
Sydney Jenkins: Toronto Blue Jays, Strength Coach
Taiki Green: Watch Momentum, Head of Content
Tanner Reklaitis: Tread Athletics, Director of Operations
Zack Jones: Philadelphia Phillies, MiLB Hitting Coach
Some employees love it at Driveline Baseball so much that they have no interest in leaving here to go to professional baseball, so we invented the split deal contract in 2019. We take care of our employees and let them explore other options while remaining part of our family. The following Driveline Baseball employees work in professional baseball while staying employed here; the best of both worlds, and the future for MLB organizations trying to employ our people.
Jason Ochart: Boston Red Sox – Director of Hitting Development & Program Design
Eric Jagers: New York Mets – Director of Pitching Development
Rob Hill: Los Angeles Dodgers – Director of Minor League Pitching
Dan Adams: Sport Scientist, Cincinnati Reds – High Performance Manager, Driveline Baseball
---
Open Positions
Full-Time Positions
Front Desk I – Kent, WA or Scottsdale, AZ
We are looking for a new member of our customer relations team! The right candidate is a dedicated individual that has previous experience in a team setting, with a knowledge of Driveline Baseball and baseball in general. You should have the ability to problem solve, assess processes and systems, and help the team succeed in helping our customers. We're a growing start-up constantly looking to push the boundaries — taking initiative and thinking critically around data problems is a must for this position.
---
Director – Human Resources
We are seeking a Director of HR who will play a key role in ensuring the overall happiness, productivity, and well-being of our employees. The Director will lead the human resources department in maintaining an environment of fun intensity, with some initial tasks centered around employee (and especially manager) training, benefits work, and improving on/off boarding processes. A genuine interest in baseball and knowledge of sabermetrics will be a significant advantage, as this aligns with our company's ethos.
---
Part-Time / Seasonal Positions
---
Head Coach – Driveline Academy
Looking to start or to continue your coaching career?
Join our rapidly growing youth Academy. Driveline Academy has Head Coaching positions available from ages 9u-18u.
Our teams represent what we believe youth travel baseball should be, focusing on building great baseball players, developing skills that scale, and keeping baseball fun. Utilize our world-class facility and tools to train the next generation.
---
Content Intern – AZ Facility
We are seeking a motivated Content Intern to join the team in our Arizona facility, where you'll craft compelling visual stories that resonate with our community. In this role, you'll contribute to content projects from conception through to execution, harnessing your creative vision and technical expertise to produce high-quality video content. Your work will embody the spirit of innovation and excellence that Driveline stands for, providing educational and engaging content that reflects our cutting-edge approach to baseball training and performance.