Description
Improve Pitching Mechanics
Heavier balls help teach a cleaner, more
efficient arm action.
Throw Harder
Build a stronger arm by using a range of throwing weights.
Recover Better
Strong arms hold their velocity for longer and recover more quickly.
Warm up Faster
Shorten the time it takes in order to get hot.
Engineered for 15,000 throws
Durable shell designed to outlast the competition
Looking for individual
PlyoCare® balls?
Click here!
Why Are There New
PlyoCare® Balls?
Program individualization is critical for effective training.
Our New Expansion PlyoCare® set used in conjunction with the PlyoVelo Calculator and free 16-Week Pitching Program (included with every order) allows athletes to target weaknesses and address seasonal or arm health-related variation in their programming with more precision for better results.
It's the next evolution in an already-effective program: since implementing them with our athletes at our facility, we've seen velo gains increase even more than before. Plyo® programming is incomplete without them, and results are better than ever.
Where Should I Start If I Haven't Thrown Plyos® Before?
Program individualization is critical for effective training.
We strongly believe that The Complete Set (9 Plyos®) absolutely will be useful as your train, even if you haven't thrown Plyos® before. But if you're brand new and want to start a little smaller, you can start with The Standard Set (6 Plyos®) + the Free 16-Week Training Program we include with every order.
That program will guide you through both how and how much to use your new Plyos®. For best results, work with Driveline Online Training where you'll have a dedicated trainer for guidance and supervision as you execute the program.
What's specifically included?
Improve your arm health, command and velocity at the same time with PlyoCare® Balls.
PlyoCare® balls vary in weight, grooving a more natural and efficient arm path—and with repeated use, ingrain good habits.
Generally, PlyoCare® Balls are used more often as a part of warm-up, recovery and every day throwing drills. Driveline uses them in a variety of constraint drills to help athletes learn mechanics.
Join the professionals that count on these training tools every day to maximize arm care.
01
More efficient
arm mechanics
02
Improving your force production
About the PlyoVelo Calculator
The PlyoVelo calculator provides direction and context as to what training focus may benefit the athlete the most.
The most common way we have been using the new Plyos® in-gym is to program athletes for overload or underload velocity phases based on what the PlyoVelo calculator tells us after an athlete does a baseline Plyo® velo. The calculator will suggest overload, underload, or standard set. Previously, as the graphic below shows, the standard set of 6 balls involved athletes throwing balls across the overload/underload spectrum. With these added balls, we have more Plyo® options that allow us to program more focused overload and underload phases without sacrificing weight variability.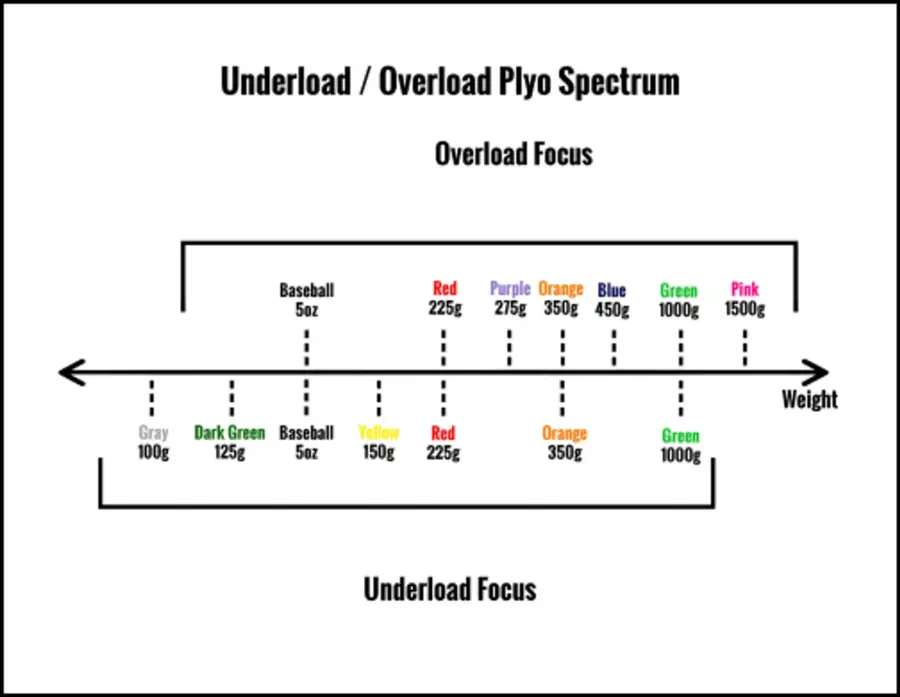 These more targeted over/underload phases can be great for athletes that:
Have a lot of experience throwing Plyos®

Have experienced or are experiencing a training plateau and could benefit from a more novel training stimulus

Going through an on-ramping or developmental phase where a high amount of training economy is being spent in the weight room

Would benefit from a more clear Plyo® progression throughout the offseason and preseason
With our NEW Plyo® Velo Calculator, coaches can take a 'baseline' Plyo® velo session and input the athlete's results from the session along with their peak velocity with a baseball on the mound. We can then compare the athletes 'actual' Plyo® velo numbers to what we would 'expect' them to throw based on their mound velocity. Seeing a distinct 'residual', or difference between their 'actual' vs 'expected' numbers can help us decide whether this athlete is best suited for an overload or underload phase.
The report below shows the results of a 'baseline' Plyo® velo. Because our athlete did not show several large discrepancies between 'actual' and 'expected' velocity, he was bucketed for 'Standard'. Meaning, he would throw the standard set of 6 Plyos® in his upcoming training phase.
More Resources on our New Plyos®